LODGING AT CHEROKEE PARK RANCH
OLD WEST + MODERN AMENITIES
Cherokee Park Ranch is the premier family vacation destination in Livermore, Colorado. Accommodations include our 120-year-old log lodge suites and six outlying cabins. All lodging units have porches with swings for you to sit and relax as the river flows nearby. Elk, mule deer, coyotes, and bald eagles are just a few of the native animals you may see from your front porch.

ALL-INCLUSIVE
Lodging + Facilities
Daily Adult + Kid Activities
Colorado cabins and lodge suites at Cherokee Park Ranch range from 1-3 bedrooms and each one has its own theme. Horses, moose, bears, Indians, fish, eagles, hawks, ravens, falcons, and porcupines are all represented in our warm, inviting decor. You'll love the authentic old logs, while appreciating the modern updates and amenities! Original antiques are also specifically placed about the rooms in our Colorado cabins. All accommodations come with a front porch and swing to relax in after a long or short day of riding the range.
Our two-story log lodge has a large living area with a huge stone fireplace. There is a pool table in the main lodge that is immensely popular with the younger cowpokes! Accommodations are replete in western charm and comfort, and all are adorned with front porches, hummingbird feeders, and blooming flowers. There are four spacious suites in the main lodge, varying in size from two to three bedrooms each. The Beaver, Cherokee, Pawnee, Cheyenne, Birdhouse, Cache, Outlaw and Porcupine cabins all overlook the river and can accommodate 2-6 guests each week. Three of our Colorado cabins have fireplaces, and all have private baths. Daily maid service is also provided.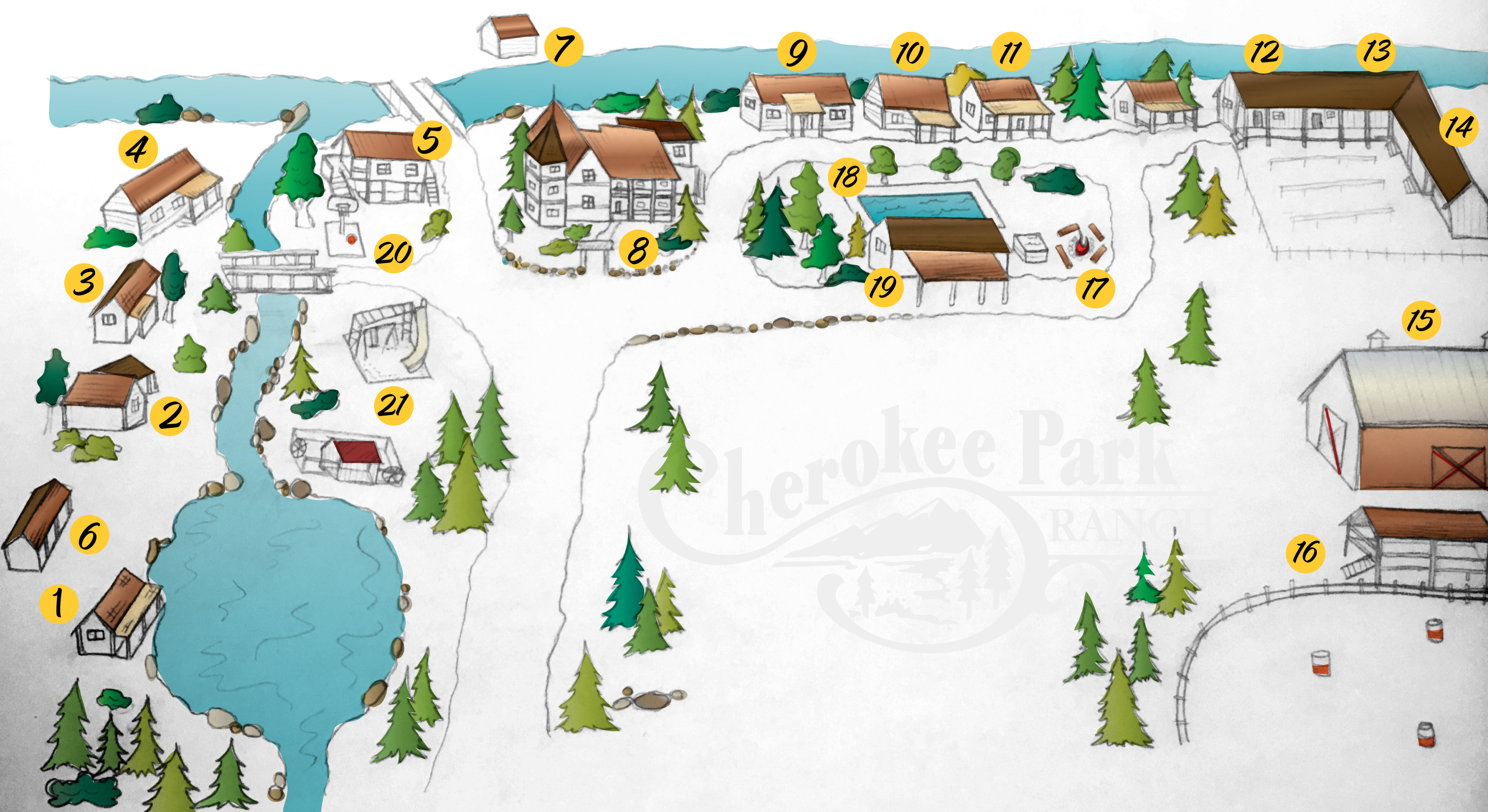 BIRD'S EYE VIEW OF
CHEROKEE PARK RANCH