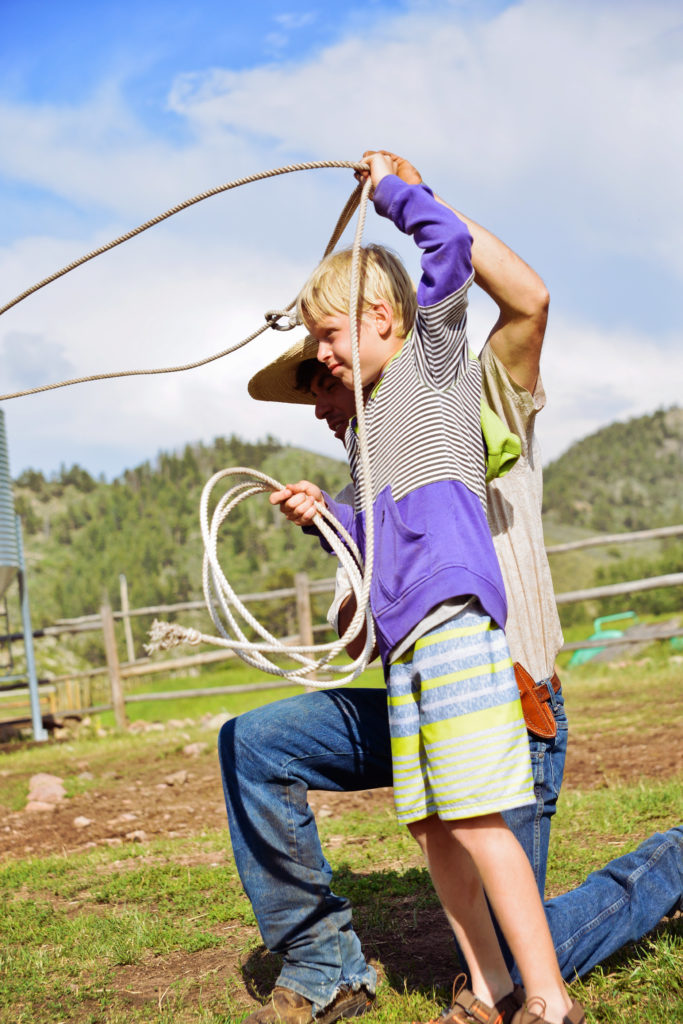 As you can guess, there's a lot of horseback riding on a Colorado dude ranch adventure vacation, but we also have plenty of non-riding activities to satisfy every taste in your party. We invite you to enjoy fly fishing, skeet shooting, cattle team penning, art classes, hay rides, square dancing, swimming, hiking, mountain biking, and so much more! All of these activities are part of your all-inclusive rate. River rafting, our ski boat trip, and our on-site massages are offered at an addition fee at your discretion.
The hustle and bustle of everyday life can sometimes bring the most positive person a little down. Nothing can heal the soul like getting away and immersing yourself in nature. Let us (with a little help from our beautiful, serene setting) help take you away and embark on a vacation as relaxing or adventurous as you desire.
"The scenery is gorgeous. If you don't want to ride, no problem, there are plenty of other activities to keep you busy, or you can sit on your porch swing and read a book!"
CHERYL, ILLINOIS
You open your eyes to the sliver of sun peering through your curtains that warmly hits your face. You stretch your legs and arms and in the distance you hear the chirping of birds and the soft sounds of water rushing down the Cache La Poudre river nearby. You open the door to your cabin and step outside with your bare feet on the soft wooden porch. As you sit down on the porch swing and gently use your toes to swing back and forth, the sun illuminates the dew on the red flower basket hanging from the porch. Dust rises from the corral and the faint sounds of the wranglers speaking gently to the horses can be heard. Wheel barrows squeak as scoops of sweet grain get poured into buckets. The horses nicker, knowing their about to be fed.
Every now and then a donkey bray is heard echoing off the Rocky Mountains. Soon a smiling face comes walking towards you with a steaming pot of coffee. You drink your coffee on the porch watching as a bright day unfolds in front of you. The smell of bacon wafts past you, and with that, several basset hounds come bounding down towards the lodge, ears flapping. Two little girls clomp down the dirt road in their red fringe cowgirl boots, both with toothless grins wide across their face. They grab ahold of the fraying old rope and pull down as the metal bell rocks slowly to the side letting out a deep, echoing "bong" as it has done without fail the last 80 years. The day has begun!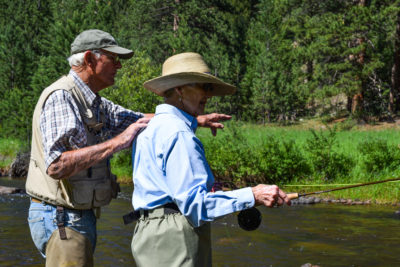 The North Fork of the Cache La Poudre runs through the ranch and has an excellent variety of trout species. We also have a Stocked Rainbow Trout pond! We provide you with Orvis top-of-the-line rods/reels. Our very own certified fly fishing instructor is available for a half-day of instruction for both beginner and experienced anglers. The ranch's private stretch of river yields a high population of Brown trout for your fly fishing success.
Love to ride & fish? Sign up for our fishing ride, where we ride out to a beautiful river location, tie up our horses, and fish along the Cache La Poudre River. With a packed lunch and fishing pole, you are sure to hook a biggin'! A fishing license is required for those 16 and older and must be acquired before arriving on the ranch.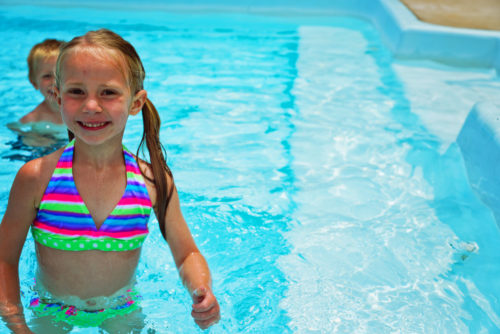 Don't forget, this IS a vacation, so give yourself a well-deserved moment to relax and lounge by the pool! Our heated pool is 40×60 ft. and  ranges from 3 ft. to 8 ft. deep. We have plenty of pool toys to keep the kiddos busy while you soak up some Colorado sun rays. After a day of horseback riding or fishing, nothing feels better than soaking in our hot tub. The stars are absolutely breathtaking in our big open sky and what better place to star gaze than in the hot tub. Our fire pit is also available to use whenever you want! Many times you will find one of our wranglers relaxing by the flames with a guitar.
Want more activity on the water? Playing in the river is always refreshing and fun! Dig around in the sand banks on the edges or brave the chilly water and have yourself a little swim  – the perfect activity after riding in the Rocky Mountains!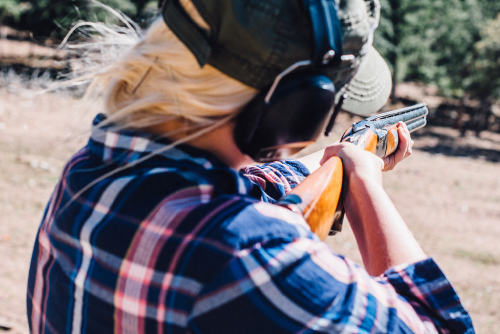 Fun for all ages, come try your hand-eye coordination with our skeet shooting, offered once a week! We provide the instructions, a safe location, and the supplies. All you have to do is aim and fire!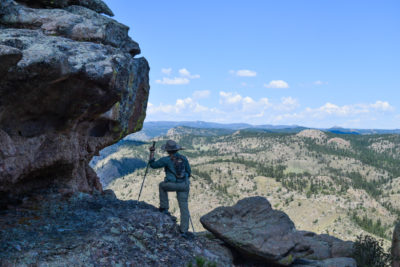 HIKING + WILDLIFE VIEWING
While the horseback riding is exceptional, it isn't all there is to do! Our 300-acre ranch is surrounded by the wild and scenic Roosevelt National Forest, where guests see pronghorn, deer, elk, coyote, moose, eagle, hawk, fox, beaver, and rattlesnake.
Whether you are exploring the miles of trails on foot, or just relaxing on your porch swing, you will marvel at all of the wildlife here.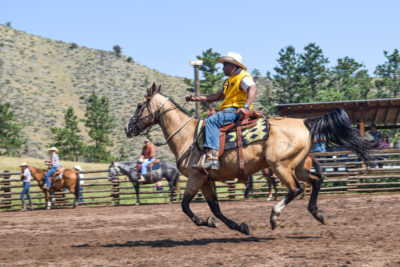 Test your skills at our rodeo. Here's your chance to show off by running barrels, keyhole racing, and pole bending as fast as you can! Participate in the egg toss, boot race, pudding race, and more. The ranch's rodeo, or gymkhana, is best described as 'games on horses'.
Our rodeo clowns are full of goofy antics and always wear a smile! Join in on the laughter and fun.
Try your hand at rustlin' cattle. The goal of the game is to move each numbered cow, in numerical order, from one pen into another. Working as a team with your horse, this activity is a blast! Move quickly and efficiently to get your best time!
TAKE 'EM OR LEAVE 'EM
ADDITIONAL ACTIVITIES
On any given day, there is a lot going on at the ranch but nothing is required. You can do as little or as much as you like. Cherokee Park Guest Ranch in Livermore, Colorado really is a Western dude ranch all-inclusive adventure vacation!
These activities are not part of your all-inclusive rate. Individual prices per activity are listed below.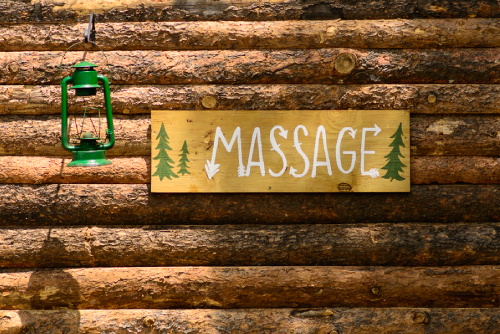 Treat yourself to a relaxing massage with our incredibly talented certified massage therapist. She will whisk you away to a place of tranquility as she helps heal and relax your body. She also incorporates essential oils to help with physical, mental and emotional wellness. Each massage will be tailored to fit the needs of each individual.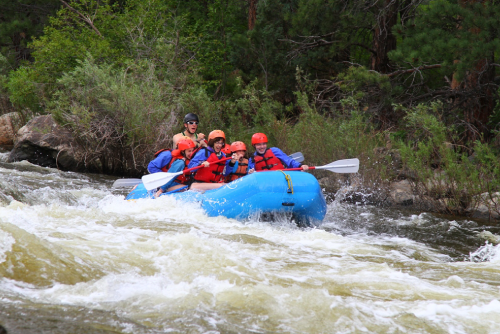 If you're looking for the ultimate Colorado adventure vacation, you will love the thrill of rafting the Cache La Poudre River (class II and III). We hire Rocky Mountain Adventures, an independent outfitter, as a guarantee you will be in the hands of experts. They use six-man rubber rafts and provide life jackets. The minimum age is 7 years. Offered from the end of May – August. You'll be contacted by Rocky Mountain Adventures directly in the spring to set up your river rafting trip.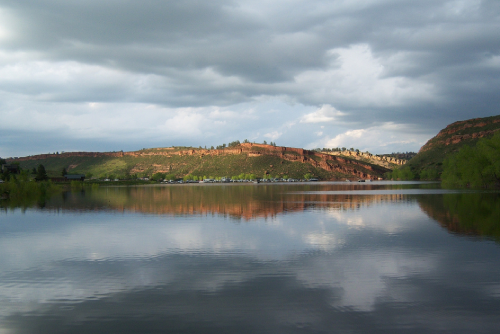 Soak up the sun on our personal boat in an absolutely gorgeous mountain setting. We will take you on a day trip on our  boat to Horsetooth Reservoir. Relax in the sun after tubing behind the boat!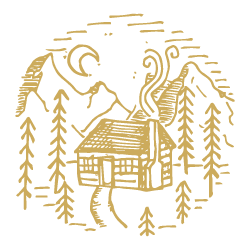 All-INCLUSIVE FAMILY VACATION FUN
OTHER ACTIVITIES