The hustle and bustle of everyday life can get even the most positive person a little down. Nothing can heal the soul like getting away, especially a vacation that has so much to offer and can truly take you away. Join us for a week and experience these 5 healing powers of a dude ranch vacation!
FRESH AIR: the atmosphere at Cherokee Park Ranch is good for the soul and mind. We are tucked away in a beautiful valley surrounded by nature. The air doesn't get much fresher than right here. Some of our rides will take you up on top of mountain ranges where you will get a 360 degree view of colorful Colorado. The clean air and warm sun is just what the doctor ordered.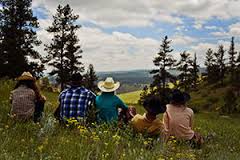 FAMILY TIME: when you are at the ranch, there are no outside distractions. No phone calls, emails, appointments, meetings, or traffic to deal with. This vacation is about you and your family spending some quality time together doing something invigorating together. What we loved the most about vacationing here as a family is how time slows down. In our daily lives, it seems as if days go by in a blur. At Cherokee Park Ranch, we get to focus on what really matters, family.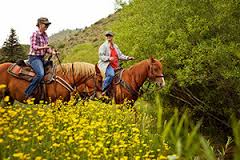 EXERCISE: a ranch vacation is a very active one! The best part about it is you don't even realize that you are doing exercise! Whether you are horseback riding, hiking, fishing, mountain biking, square dancing, river rafting or even roping, you are getting a work out. If you are missing the gym, we can always use a hand loading up hay bales or fodder!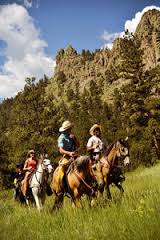 MENTAL HEALTH: It's no secret that the outdoors provide huge physical and mental health benefits. The entire vibe of our ranch is a very tranquil and relaxing one that will boost your immune system. Vitamin D, which you receive from the sun, is proven to help fight certain conditions such as depression, osteoporosis from cancer, and even heart attacks. Taking a step back from staring at a computer screen or television for even a week can do wonders for rejuvenating your health and restoring your mind's ability to focus. You can even treat yourself to a stress-relieving massage while on your vacation!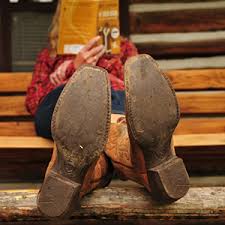 HEARTY MEALS: No detail is overlooked at Cherokee Park Ranch including your appetite. Our wholesome, well-balanced, and carefully prepared meals exceed your expectations on a ranch vacation. All of our breads, desserts, and meals are made daily by our chef and kitchen crew with fresh ingredients. Moms love us because there is no stress in deciding what or where to eat. We cater to all dietary needs to make sure each individual is satisfied and full…..never neglecting the sweet tooth!