The Top 5 Reasons a Trip to Cherokee Park Ranch is the Perfect Honeymoon or Romantic Getaway
Townsend and I got married just a few years ago, and one of the trickiest decisions we faced was choosing our honeymoon destination. There are so many options. So, where did we start?
We made a checklist of features that were important to us: an all-inclusive stay, a quick travel day, a romantic environment, lots of activities to keep us busy, an uncrowded and unique environment, and not terribly expensive. It then dawned on me that we were describing Cherokee Park Ranch! Townsend and I started talking about how a vacation at a guest ranch would really be the perfect honeymoon for us and how honeymooning at a guest ranch is commonly overlooked as an option.
Cherokee Park Ranch truly is the perfect destination for honeymoons, romantic getaways, and anniversaries. It's also the perfect setting for a proposal!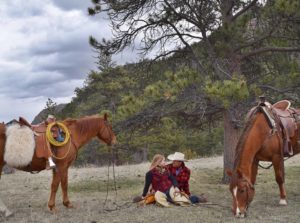 We are immersed in a romantic setting.
Our private cabins and suites have romance written all over them. From the cozy fireplaces (perfect for cuddling in front of) to the dreamlike beds, you will feel like you are in your own little western world. Grab a bottle of wine and soak in the hot tub out under the stars. Or, take a quiet hike together and bask in the beautiful nature that surrounds us. Enjoy an afternoon nap in a hammock, or seek an adrenaline rush by walking, trotting, or loping on your horses through wildflower-sprinkled meadows. Unlike crowded beach resorts, we are unplugged up here in the Rocky Mountains. With limited cell phone service and internet access, you will put your phone down and focus on each other. What a great way to truly get away and fully enjoy the love you have for each other!?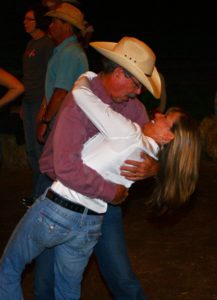 Cherokee Park Ranch offers affordable, all-inclusive rates.
An all-inclusive rate is always a desirable feature in a honeymoon or romantic getaway. It just makes your trip, easy, convenient, and stress-free. When you are at Cherokee Park Ranch, you won't need to worry about packing your wallet and discovering hidden charges throughout your stay. Our rates are all-inclusive of your lodging, all of our daily and nightly activities, and three, daily, freshly-made meals. We take care of it all, so you can just arrive and feel right at home! On top of being all-inclusive, we are a very affordable guest ranch!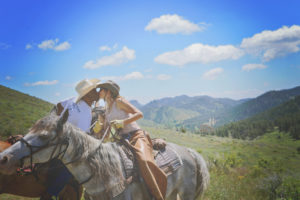 Our dude ranch is conveniently located.
If you're like me, you may love to travel but hate long travel days. When I typically think about traveling to a unique location or a place to just "get away from it all," I imagine flying into small airports and then spending hours in a car to arrive at my ultimate destination. Cherokee Park Ranch is different. We are nestled in the gorgeous Rocky Mountains in Livermore, CO, which is just a leisurely 1 hr 45 min drive from the Denver International Airport. Instead of renting a car, you can just hop into a shuttle at the airport that will take you to Fort Collins, where we will pick you up! Easy peasy!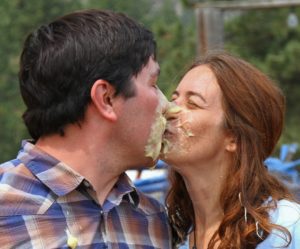 Cherokee Park Ranch offers activities galore.
After all of that wedding planning and the general stressors of life, you are likely looking forward to some relaxation. While a trip to the beach is always nice, how many days can you just sit out in the sun and roast before you get bored? On any given day at Cherokee Park Ranch, you can do as much or as little as you would like. You get to build your own vacation and set the tone for each day of your trip. You can relax, immerse yourself in the breathtaking scenery, and just enjoy each other and the beautiful Colorado weather. Or, you can choose to participate in the unlimited activity options CPR offers. We offer activities to keep you entertained from dusk 'til dawn, including horseback riding, fly fishing, going on a hayride, square dancing, hiking, biking, swimming, whitewater river rafting, tubing the river, skeet shooting, taking an art class, getting a massage, and more – the list goes on!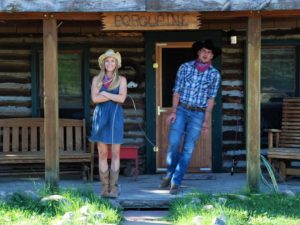 A CPR honeymoon is unique and full of adventurous, quality time.
A dude ranch vacation at Cherokee Park Ranch is unlike any other "couple's vacation." We specifically design our program to create and support opportunities to spend quality time together. For example, you can build confidence by trying a new activity together and work as a team to move cattle on horseback. Most importantly, without outside distractions like televisions, computers, and cell phones, you can truly make the most of your time together and make memories to last a lifetime! And, our on-staff photographer is ready to capture these memories for you!
If you're in the midst of planning your wedding and are like me, then you are ready and excited to start writing the first chapter of your new life together as a married couple. A honeymoon at Cherokee Park Ranch will not only provide you with memories to last a lifetime, it will also help set an incredible foundation for a fun, adventurous, and loving marriage! Congratulations, and I hope to see you and your loved one at the ranch!
~ Caree Prince ~