The Best Dude Ranch for Beginner and Advanced Riders
Cherokee Park Ranch has a diverse and impressive horse program which makes this vacation suitable for all levels of horseback riders. At any given week we will have guests riding horses for the first time in their life as well as competitive, professional level riders heading out for a thrilling trail ride. The beauty of our ranch is that we specialize in beginner and advanced horseback riding to ensure each guest will enjoy their time in the saddle.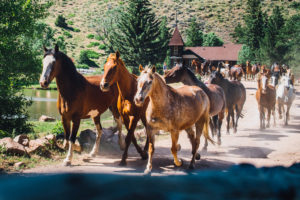 We have a LOT of horses. With a horse herd of 130 athletic, ranch-raised horses, we promise to find you the perfect mount for the week. Our horses are our family members and most were born and raised right here on the ranch!  Before arriving, we'll have you fill out a questionnaire to describe your riding history and what you are looking for in a horse. Our talented and professional head wrangler will then choose a horse that meets your criteria and it will be yours for the week! We've got big, little, slow, fast, calm, spirited, gentle, sweet, quarter horse, Tennessee walker, paint, thoroughbred, draft, haflinger, you name it. We've got the perfect horse for you!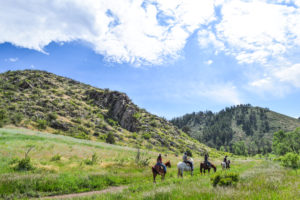 We have a LOT of trails. Our area of Colorado is unique in its terrain which allows our riders to experience a little of everything: mountains, meadows, wilderness, river crossings, prairie, aspen tree groves, sage brush mountain sides, etc. Enjoy a slow paced ride that will have you riding through a gentle sloping valley, surrounded by the Rocky Mountains or climb upward to the ridge of a mountain top, drop down the other side to a windy trail that you can pick up some serious speed on. We have hundreds of miles of trails to explore and you will never repeat a ride, unless you want to!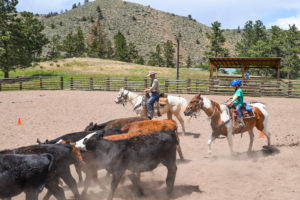 We have a LOT of riding options. The choice is yours! You tell us if you want to walk, trot, lope, do a morning ride, afternoon ride, all-day lunch ride, team pen cattle, have a private horseback lesson, practice your rodeo events for the Friday rodeo, go bush-wacking, take a horsemanship class, a fly fishing lunch ride, maybe jump some tree logs, the type of riding you do is  completely up to you. You will be paired with riders that are your same skill level and typically there are three or four guests and a wrangler on each ride.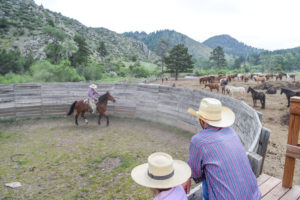 We have a LOT of passion for horseback riding. It is our pleasure to teach new riders about horsemanship and get them feeling comfortable on their horse. To watch a timid rider gain confidence throughout the week and eventually lope on the trails is an incredible feeling. We love horses and we want to share that passion with our guests. We want this to be more than a dude ranch vacation to you, we want you to experience what true western horse culture feels like deep in your soul. Everybody has a cowboy/cowgirl deep down inside and Cherokee Park Ranch wants to help you discover that side of yourself!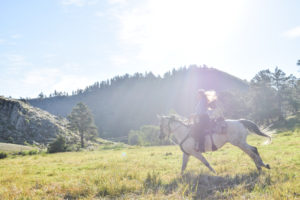 We have a LOT of fun. Our wranglers were picked for their riding ability, horse handling skills, safety precautions, and their personality. They come from all over the globe and are ready to show you an incredible time on the trail. You will not only ride a fantastic horse, see some stunning scenery, but you will be entertained and guided by the best wranglers in the world! By the end of the week, we are like one big family!